---
"VII Settimana della musica" da definire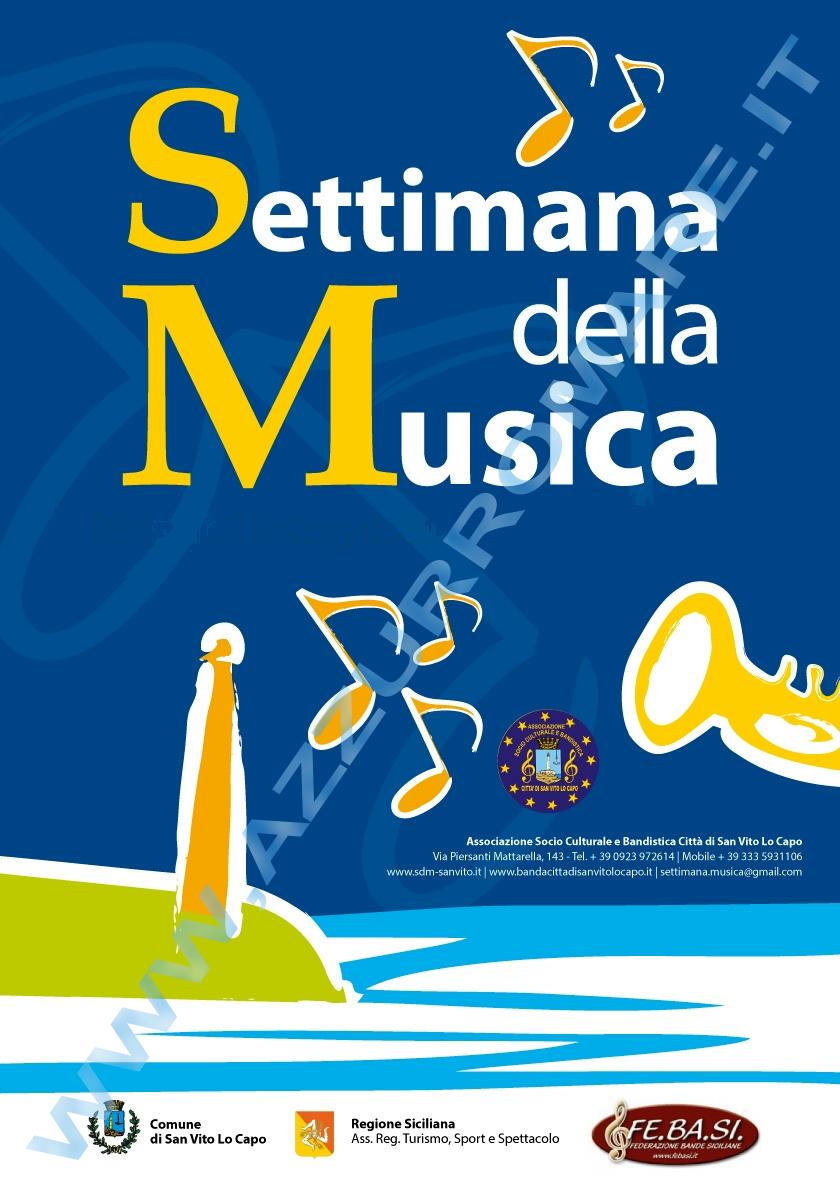 "VII Settimana della Musica", un evento culturale connesso al mondo della musica e ai suoi svariati aspetti. La manifestazione è sorta con lo scopo di dare stimolo alla crescita morale, spirituale, culturale e sociale mediante diverse manifestazioni di spettacolo. Condivisione, conoscenza e divertimento costituiscono i tre punti cardine dell'evento, il quale è destinato a un pubblico di tutte le età. Oltre alla centralità della musica, proposta nei suoi diversi generi, dal popolarissimo bandistico, alla raffinata musica da camera, dal caldo jazz al folkloristico, viene dato anche spazio all'arte pittorica, poetica, alla danza e alla culinaria.
"VII Week of the Music", a connected cultural event to the world of the music and his/her varied aspects. The demonstration has risen with the purpose of to give stimulus to the moral, spiritual, cultural and social growth through different demonstrations of show. Sharing, knowledge and fun they constitute the three points cornerstone of the event, which is destined to a public of all the ages. Besides the centralità of the music, proposed in his/her different son-in-laws, from the popular bandistico, to the refined person room music, from the warm jazz to the folklorist one, space is given to also the art pictorial, poetic, to the dance and the gastronomy.
---
"6° weekend dello Sport Zero Barriere" dal 26 al 28 Maggio
Nello splendido scenario del lungomare di San Vito Lo Capo, decine di atleti parteciperanno al 6° weekend dello sport "Zero Barriere". A San Vito lo Capo il progetto «Zero Barriere» è rivolto alle persone con disabilità, che potranno usufruire del mare e della spiaggia della Costa Gaia. Il progetto di assistenza e accoglienza resterà attivo fino al 30 settembre, ed è assolutamente gratuito: prevede un'area riservata in spiaggia, adeguatamente segnalata, per l'accesso e il parcheggio delle sedie, con ombrelloni e sdraio per 9 postazioni, è assicurata l'assistenza specializzata tutti i giorni dalle ore 9,00 alle 19,00.
In the splendid scenery of the waterfront of St. Vito lo Capo, about ten athletes will participate in the 6° weekend of the sport "Zero Barriers.". To St. Vito lo Capo the project «Zero Barriers» it is turned to the people with handicap, that can enjoy of the sea and of the beach of the Cheerful Coast. The project of assistance and eception it will stay active up to September 30, and it is absolutely free: it foresees a reserved area in the beach, adequately signalled, for the access and the parking lot of the chairs, with umbrella and I lay down for 9 postings, the specialized assistance is insured every day from the hours 9,00 at 19,00 o'clock.
---
"6° Mostra mercato MarinFiore" da definire
Per le vie di San Vito lo Capo, le Buganville faranno da cornice alla 6° Mostra Mercato Floreale "Marinfiore". La rassegna consiste in una mostra mercato floreale affiancata da numerosi eventi e momenti di aggregazione (body painting, cucina, folklore, ecc.).
For the streets of St. Vito lo Capo, the Buganvilles will serve as frame to the 6° Show Floral Market "Marinfiore". it resigns her it consists in a show floral market placed side by side by numerous events and moments of aggregation (body painting, kitchen, folklore, etc.).
---
"9° Festival Internazionale degli aquiloni" dal 25 al 28 Maggio
Per il 9° Anno ritorna l'appuntamento con il Festival Internazionale degli Aquiloni "Emozioni a naso in su!". Un evento spettacolare e unico in Sicilia,che ha registrato l'importante presenza di centinaia di migliaia di appassionati e visitatori e che avrà luogo nella stupenda spiaggia di San Vito lo Capo. Da non perdere per il fascino unico della manifestazione e delle sue varie attrattive.

For the 9° Year returns the appointment with the International Festival of the Kites "Emotions to nose in on!". A spectacular and only event in Sicilia, has recorded the important presence of hundreds of thousand of impassioned and visitors and that it will take place in the stupendous beach of St. Vito lo Capo. Not to lose for the unique charm of the demonstration and its various attractions.
---