---
"9° Cous Cous Fest Preview" da definire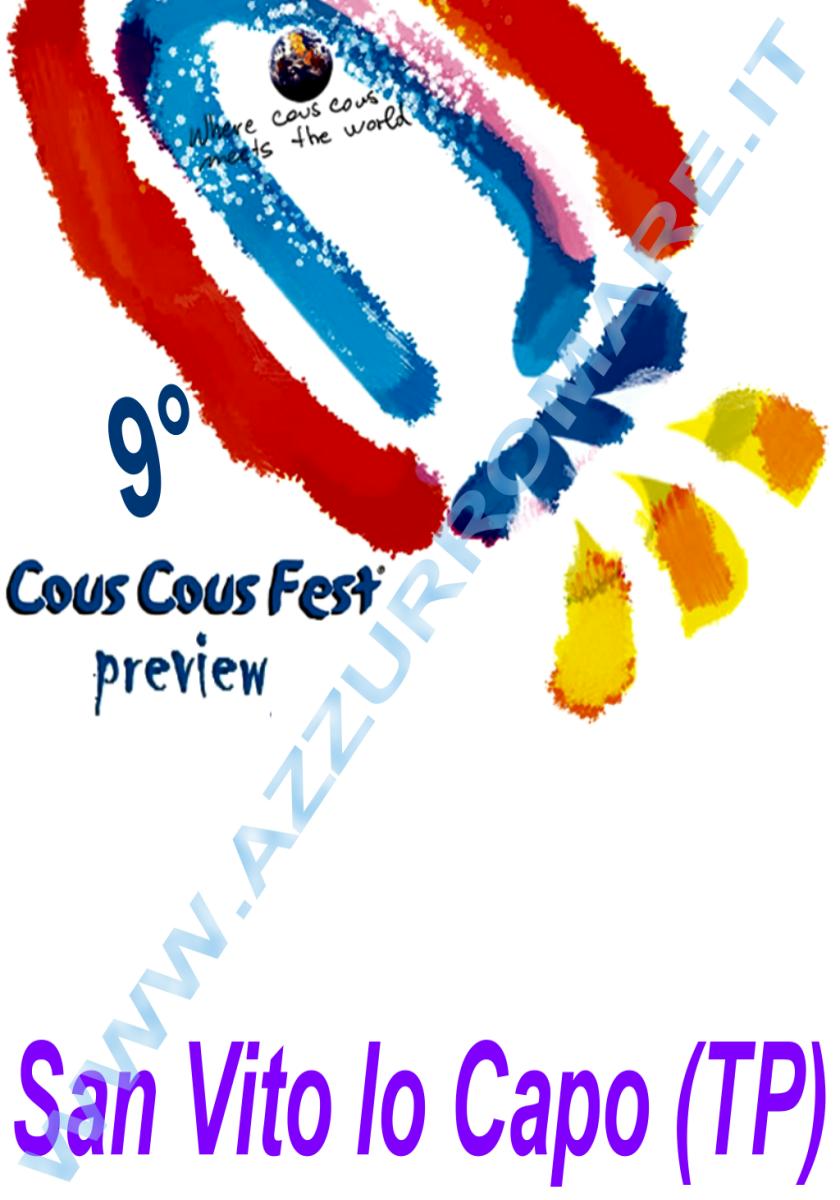 A San Vito Lo Capo è tempo di Cous Cous Fest Preview:Un weekend per assaggiare un anticipo del Cous Cous Fest e selezionare lo chef che farà parte della squadra italiana in gara a settembre.
To St. Vito Lo Capo is time of Cous Cous Fest Preview: One weekend to taste an advance of the Cous Cous Fest and to select the chef that will belong to the Italian team in competition in September.
---
"18° edizione di Autori, libri e buganvillee" dal 4 Luglio al 30 Agosto
A San Vito Lo Capo per il 18° anno consecutivo, circondato da gelsomini e da buganvillee, a due passi dal mare e nel cuore del centro storico, arricchita dalla presenza di svariati protagonisti della saggistica, del giornalismo e della narrativa italiana, gli scrittori più affermati daranno vita alla kermesse di incontri "Libri, autori e buganvillee".
To St. Vito Lo Capo for the 18° consecutive year, surrounded by jasmines and by buganvillee, a stonesthrow from the sea and in the heart of the historical center, enriched by the presence of varied protagonists of the b ookcase of the journalism and of the Italian fiction, the writers more affirmed will give life to the kermesse of meetings "Books, authors and buganvillee."
---
"7° Ludofestival" da definire
San Vito Lo Capo si dedica alle famiglie con un'attenzione particolare ai più piccoli, contempla giochi tradizionali, tiro alla fionda, freccette, carrozzoni, gioco dell'oca e tanti altri ripresentati in spiaggia e nelle piazze. Per l'occasione saranno predisposti diversi laboratori didattici e creativi, ove i bimbi potranno dedicare il loro tempo oltre che al bel mare di San Vito Lo Capo, anche all'apprendimento e allo svago, e la sera si terranno poi concerti, spettacoli circensi, favole narrate sotto il cielo stellato e molto altro ancora.

St. Vito Lo Capo devotes him to the families with a particular attention to the smallest, it contemplates traditional games, draught to the slingshot, arrows, the caravans, game of the goose and so many other introduced in the beach and in the plazas. For the occasion different didactic and creative laboratories will be predisposed, where the babies can devote their time over that to the beautiful sea of St. Vito Lo Capo, also to the learning and the relaxation, and the evening concerts will be held, then circus shows, fables narrated under the starry sky and still more.
---
"9° Siciliambiente Documentary Film Festival" dal 18 al 23 Luglio
A San Vito Lo Capo è tempo di Siciliambiente Documentary Film Festival, la rassegna internazionale di documentari sull'ambiente Il festival è giunto alla sua 9° edizione e il suo scopo è quello di promuovere la diffusione di una cultura della sostenibilità, orientata al rispetto ambientale. Perché sono le scelte individuali ed attuali ad incidere sul futuro, di tutti.

To St. Vito Lo Capo is time of Siciliambiente Documentary Film Festival, the international review of documentaries on the environment The festival has reached its 9° edition and its purpose it is that to promote the diffusion of a culture of the sustainability, directed to the environmental respect. Because they are the individual and actual choices to engrave on the future of everybody.
---
"X Edizione di San Vito Jazz" da definire
Rassegna di musica jazz che a pieno titolo è considerata fra le manifestazioni di cartello del corposo calendario di eventi in programma. A luglio, dunque, a San Vito si suona il jazz con la presenza di musicisti di fama internazionale.

Review of music jazz that to full title it is considered among the demonstrations of poster of the full-bodied calendar of scheduled events. In July, therefore, to St. Vito he plays the jazz with the presence of musicians of international fame.
---